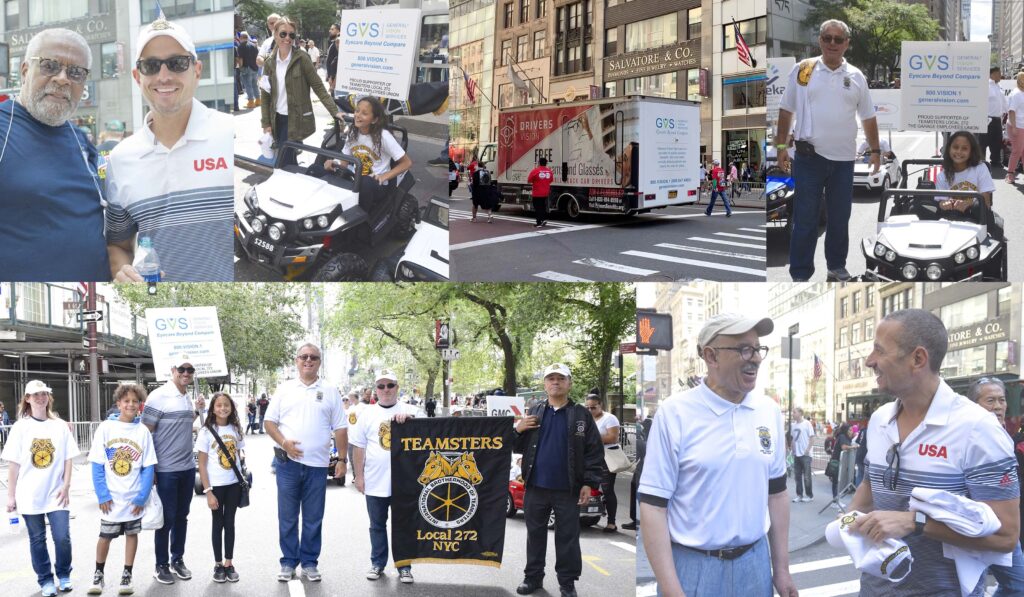 GVS' Tony Rosario and Heather Brown enjoy the Labor Day Parade, walking alongside George Miranda (Vice President, International Teamsters), Chris Silvera (Secretary-Treasurer, Teamsters Local 808) and Matthew Bruccoleri (Business Manager, Teamsters Local 272).
GVS proudly joined the community to celebrate Labor Day, marching with our union brothers and sisters in the NYC Labor Day parade! This continues a tradition dating back to the founding of the company in the 1950s, when we honored workers with our very own Labor Day float.
This year we showed our support by getting right into the festivities of the day. GVS team members Heather Brown, Brian Christophersen and Tony Rosario attended the event. Tony's children even rode in sponsored parade karts with our client, Teamsters Local 272. There were smiles and laughter all around as they went down 5th Avenue enjoying the music and sunshine. Along the way, we were joined by the Drivers Benefits Mobile Eyecare Center, an optical service on wheels powered by GVS.
GVS' commitment to labor is what sets us apart from other eyecare companies. When GVS was founded it was the only optical organization in the city that catered to unions and we carry on that same spirit today. It's for this reason that the NYC Central Labor Council, Federation of Labor and the New York State AFL-CIO once named us New York's preferred vision provider. We are proud to honor America's workers and to support our union associates.